4 Essential Tips to Protect Yourself Online
In this ever-expanding digital age, cyberbullying is sadly growing. But remember: everyone, young and old, can face it. The internet, wondrous in scope, has its dark corners. However, equipped with the might of knowledge, you can counter such negativity. You've got power. Face hate with resilience, block the negativity, and rally with allies. We've got this. Stand strong, combat cyberbullying. It begins with us. We'll go over four key pointers in this post to assist you in surviving these trying circumstances and preserving your wellbeing online.
Do not reply instantly or just ignore:
Your first reaction may be to lash out in anger or frustration when faced with cyberbullying. Engaging the bully, however, can frequently worsen the situation and prolong the abuse. Instead, exhale deeply and repress the temptation to strike back. They won't get the response they want if they ignore the cyberbully's comments, and they might eventually lose interest. Keep in mind that you have the option to refrain from supporting their destructive actions.
Take screenshots:
When requesting assistance or reporting the problem, it is essential to keep track of occurrences of cyberbullying. Take screenshots of the harassing messages, remarks, or any harassment-related documentation. These screenshots are significant evidence that can, if necessary, be shared with friends, family, or school officials. By gathering proof, you give yourself the ability to act appropriately and highlight how serious the matter is.
Avoid checking your posts over and over again:
It's normal to feel concerned and keep a close eye on your social media accounts or online presence when you're the subject of cyberbullying. However, checking for fresh comments or messages on a regular basis might make tension and anxiety worse. Instead, think about reducing your screen time and putting more effort into doing healthy offline activities that advance your wellbeing. Distracting yourself with hobbies, spending time with loved ones, or pursuing personal goals can help maintain a healthy mindset amidst the challenges.
Do not hesitate to report or block:
One of the most effective ways to combat cyberbullying is by reporting and blocking the perpetrators. Most social media platforms have specific reporting mechanisms to address harassment and ensure user safety. Report the cyberbullying incidents using the platform's reporting tools and provide the necessary evidence you collected. Additionally, take advantage of the block feature to prevent further contact from the bully. By promptly reporting and blocking, you create a safer online environment for yourself and others.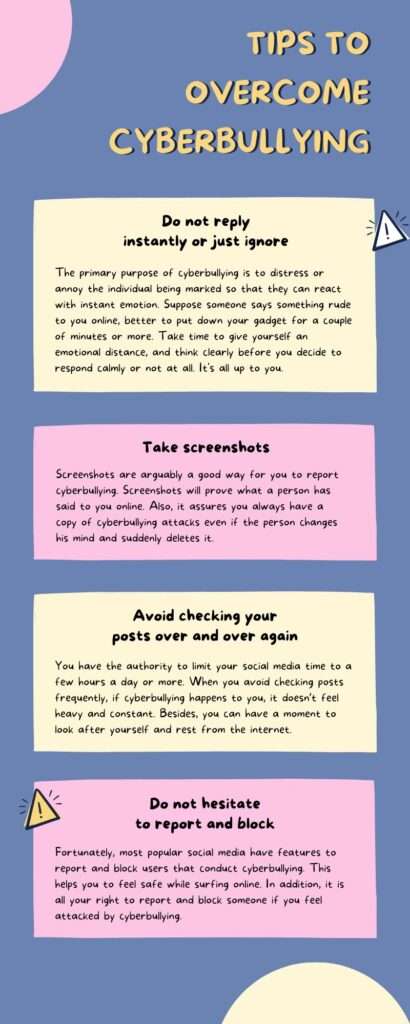 How to Stay Safe Online: Cybersecurity Tips and Best Practices