Unlocking the Secrets: Best Times to Post on Social Media
Social networking is essential for individuals and organizations in the digital age, impacting reach, engagement, and success. Understanding optimal publishing times is crucial for success. In order to determine the most effective times to post on several well-liked platforms, we will explore the fascinating world of social media algorithms and user behavior in this article.
The Science Behind Social Media Algorithms:
Prior to delving into precise posting times, it's critical to understand the core principles that underpin social media algorithmic processes. Complex algorithms are used by platforms like Facebook, Instagram, Twitter, and LinkedIn to choose which material shows in users' feeds. These algorithms give posts a higher priority depending on criteria including relevance, engagement, and recentness. Your chances of obtaining more visibility and engagement are increased by strategically posting during periods of peak activity.
Consider Your Target Audience:
Your target audience will play a significant role in determining when to post on social media. You can modify your material to efficiently target them if you are aware of their behaviours, demographics, and time zones. For instance, blogging throughout the week and during work hours may be more effective if the majority of your audience is made up of professionals. If young people or teenagers are your target market, however, evenings and weekends might be better times to advertise.
Optimal Posting Times for Different Platforms:
a. Facebook: As the most visited social media site, Facebook has a wide audience. Midweek afternoons, notably between 1 pm and 4 pm will be the best times to post on facebook. The engagement rates are often greater on Thursdays and Fridays. Do not publish in the early morning or late at night.
b. Instagram: This platform's emphasis on visual content necessitates a more subtle approach. The best time to post on Instagram is typically between 10 am and 3 pm on weekdays. Businesses aiming to reach B2B audiences may find that publishing after lunch or after work is more successful.
c. Twitter: Due to its quick-paced nature, Twitter has slightly different ideal publishing timings. During the week, tweets typically perform well, especially in the early afternoon (12 to 3 pm). Evenings and weekends may be advantageous because Twitter is recognized for its real-time chats.
d. LinkedIn: LinkedIn goes better during week days especially on Tuesdays, Wednesday and Thursdays. Best time to post on LinkedIn is between 8 and 10 in the morning and 12 and 2 in the afternoon. Skip the weekends and late nights.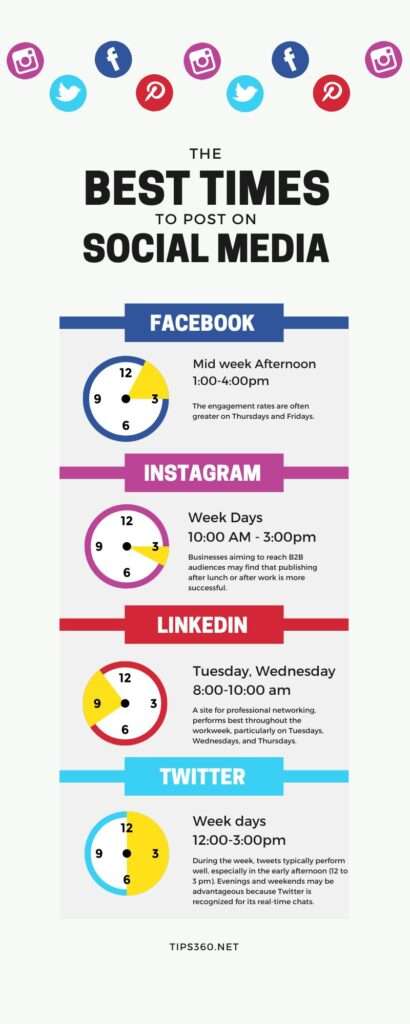 Experimentation and Analytics:
While these timelines offer a general framework, it's important to keep in mind that each audience and niche could have particular preferences. Monitor your social media statistics frequently to spot trends and adjust your posting strategy as necessary. Discover the ideal publishing times for your particular audience by experimenting with various posting hours and gauging interaction levels.
The Importance of Consistency:
Maintaining an engaging and active social media presence requires consistency. Once you've determined the best times to post, try to establish a regular plan. A committed audience that anticipates and values your updates can be attracted by consistently releasing high-quality information during these times.